Event
The National Galleries of Scotland and the artist Victoria Crowe are delighted to host a concert on the 15th of November celebrating the music of Thea Musgrave in her 90th birthday year and the 90th anniversary of the birth of the composer Ronald Stevenson. This concert takes place at the Portrait Gallery during the showing of the exhibition Beyond Likeness which features Victoria Crowe's portraits of both Musgrave and Stevenson. In addition to vocal works by these two Scottish composers, the concert includes music by Arvo Pärt, Benjamin Britten and Gerald Finzi to mark the centenary of the First World War in November 2018.
Soloists include countertenor David James, Brain Bannatyne-Scott (bass) and soprano Susan Hamilton, accompanied by Jan Waterfield (piano) Gwen Sinclair (harp) and musicians from the University of Edinburgh. The counter tenor David James will perform some settings of poems by Kathleen Raine (whose portrait is also in the exhibition); the bass Brian Bannatyne Scott will perform setting of Hugh Macdiarmid, and the centrepiece of the exhibition will be soprano, Susan Hamilton, singing the Nine Haikus with harp accompaniment.
After the concert, the event will continue in the Portrait Gallery café, where you will be able to enjoy a complementary glass of wine in the company of the performers. This is a great opportunity to meet Victoria Crowe in person where she will be signing copies of her Beyond Likeness book alongside the merchandise and two beautiful limited editions prints from her exhibition.
Note tickets for this event are only available in advance. Please call if you require assistance with access. +44 (0)131 624 6200. nationalgalleries.org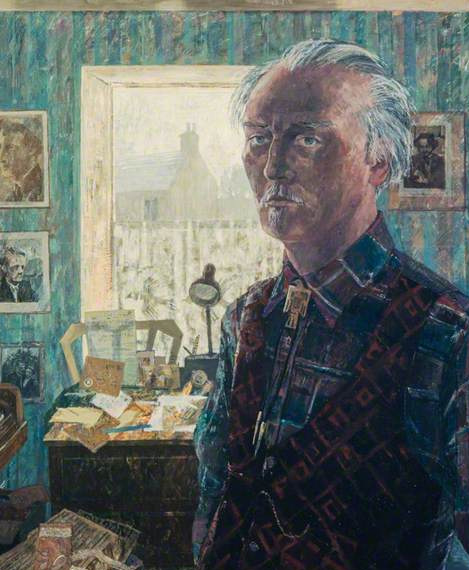 Tickets have just gone on sale for a one off celebrity concert at the Scottish Portrait Gallery from 6.15 – 9pm on Thursday 15th November. It is celebrating both the 100th anniversary of the end of WW1 and the last days of the wonderful exhibition of portraits by Victoria Crowe at the SPG, and will include works by Thea Musgrave and Ronald Stevenson, both of whose portraits feature in the exhibition. In addition, performances of works by Britten, Part and Finzi will honour the end of the terrible conflict in 1918. David James, Susan Hamilton and Brian Scott will be the vocalists, along with Jan Waterfield on piano and Gwen Sinclair on harp.
There will be a chance to meet the performers and Victoria Crowe over a complimentary glass of wine after the concert. Tickets are very limited and are available only in advance via the SPG website, priced 25 pounds.
The concert is advertised at the moment as "Celebrating Thea Musgrave's 90th Year" but this may change!